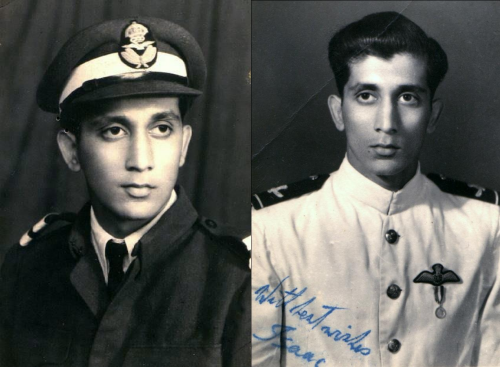 Isaac Ezekiel was born on 6 August 1927 to Ezekiel Samuel Ezekiel Awaskar and Sarah daughter of Captain Solomon Samson Penkar in Poona.
He grew up in Bombay and studied in St. Mary's High School. He studied for one year at KHA College and then joined the new Indian Air Training within the framework of Bombay University. In September 1946 he was selected as a trainee in the new fledgling India Air Force and after a short delay was sent to the Air Force Flying School at Jodhpur in India after which six cadets were selected for advanced training at the Air Force base in Ambala when again there was some delay in the start of the course due the emergence of Independent India. Finally he qualified as a fighter pilot on the famed Spit Fighters on 1 July 1949.
Picture Courtesy of Air Commodore (Retd) Minoo Mehta
---

File Pictures of the Spitfire and Tempest of the Indian Air Force
---
He was the posted to Poona to join the Tempest Squadron stationed there. During this period the Indian Air Force had made a policy decision to establish an Air Force comprising of 50 Squadrons and was in need of a large number of pilots to be trained quickly and efficiently. It should be noted that Isaac Ezekiel served in the formative years of the miniscule Indian Air Force and finally resigned as Wg Commander which was very senior rank in those days.
Flying Officer Isaac Ezekiel as Instructor at Air Force Flying School- Jodhpur
---
From there he was sent for an Instructor's course to Jodhpur in Training Command. He served in this position for three years. One of his trainees was to become the future Air Chief Marshal Kaul. Then he was sent to The Jet Fighter Training School at Secundrabad. Later he was posted to Adampur in the North and from there to The 17th Squadron (Vampires) in Poona as Squadron Leader in Western Command. In 1953 he married Rebecca daughter of Moses and Ruth Daniel and together have three sons named Japheth, Dan and the late Micha and several grandchildren.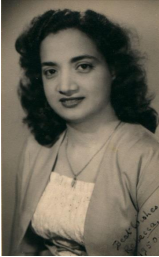 Rebecca Moses Daniel (Talkar)
---
Wedding Pictures of Isaac & Rebecca Ezekiel and the Family Group Picture
---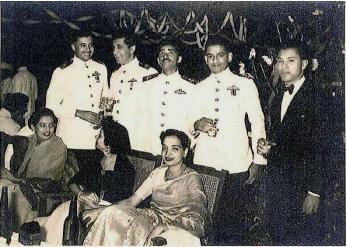 Isaac and Rebecca Ezekiel In the Officers Mess of the IAF
---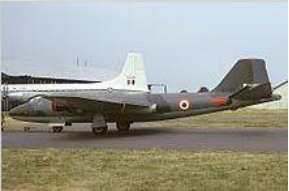 File Picture of Canberra Bomber
---
In 1957 he was then sent to The U.K. for advanced training on the Canberra Bombers. Which were brought to India via Egypt. He took over as Chief Officer and Head of Training, Jet Bomber Command Unit a position in which he served for 3 years. Isaac Ezekiel was selected to attend The Joint Services Staff College at Wellington upon the completion of which he was elevated to the Rank of Wing Commander and made Chief Officer Air Crew Examining Board (served in this position from 1964-65) within the framework of Air Headquarters and Western Command at Palam & Hinden Air Force Bases, New Delhi. The chief mission of this posting was to establish and maintain the highest standards of the pilots and other air crew in the Indian Air Force.
Isaac Ezekiel in the Cockpit of an El Al Commercial Jet Passenger Aircraft
---
In 1965 Wg. Commander Isaac Ezekiel resigned from the Indian Air Force and joined Air India and was initially based at Santa Cruz Airport, Bombay and then later in Perth, Australia. The main reason being that being a Jew he could not fly through many countries in the Middle East. In 1969 he returned to India for training as Captain on the Boeing 707 aircraft. In 1970 Isaac resigned from Air India and made Aliyah to Israel together with his family where he joined El Al as a pilot qualified to fly on Boeing seven zero seven and seven four seven aircraft. In 1972 Isaac was injured in a terrorist attack by Kozo Okomoto in a shooting spree in the arrival terminal hall at Ben Gurion International Airport while returning from a flight abroad. He continued in El Al and served from 1971; flying on the latest Boeing Jet Aircraft for several thousands of hours, to destinations all over the world; thoroughly enjoying every minute of flying time till his retirement in 1987. Upon retirement he lived a good and healthy life among family and friends.
On 13 January 2015, Wg. Cmdr. (Retd) Isaac Ezekiel, after a protracted illness took off on his last flight to his eternal and heavenly destination (as stated by his wife Rebecca at the funeral service) from his residence in Zichron Yacob in Israel. All his family, friends, relations and community members wish him a safe landing.
He is survived by his wife Rebecca, two sons Japheth and Danny and several grand Children including those of his late son Micha. The funeral at the local cemetery in Zichron Yacob was attended by family, friends and also Gp. Capt. George Thomas-Defence Attaché –Indian Air Force. Two wreaths were laid by Gp. Capt. George Thomas one on behalf of the Embassy of India and the other on behalf of the Indian Air Force.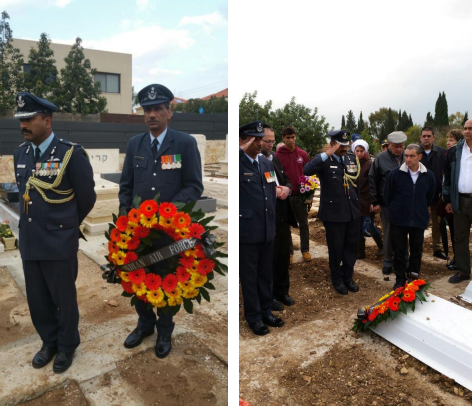 Group Captain George Thomas (Indian Air Force)
Defense Attach'e Embassy of India laying the Wreath at the Funeral of
Wg Cmdr.(Retd) Isaac Ezekiel Indian Air Force (Canberra Squadron)
---
A Piece of the article following Isaac Ezekiels passing
Courtesy of Geffen newspaper
---
Compiled & Edited by
Nissim Moses
Historian Indian Jewish Heritage and Bene Israel Genealogy Research