Born- 9 Feb 1941
---
Lt. General Russell Jacob Mordecai (Borgaonkar) was the highest ranking Bene Israel Officer in
the Indian Army. He is the Grandson of the Late Khan Saheb Jacob Mordechai-Deputy Chief of
Military Accounts Pune and son of Late Jacob Mordechai Kaisar-E-Hind.
General Russell Mordechai and his brothers and sisters were very unfortunate in losing both their
parents very early in life, but through the care of their aunt Ms. Eppie Judah were very successful
in weathering the storm and achieving success in their respective lives.
Gen. Russell Mordecai studied in some of the best schools & colleges in India such as Bombay
Scottish School, St. Ornella's in Poona and Christ Church High School in Jabalpur and then at St.
Aloysius College.
He joined the Indian Military Academy at Dehra Dun in July 1959, and was Commissioned in the
Corps of Engineers (The Bombay Sappers) of the Indian Army on 11 June 1961. Despite a very
serious accident while serving with the Border Roads Organization in NEFA he recovered after
very long periods in Military Hospitals to finally rise to become the Director General of that
very Organization achieving the rank of Lt. General and served in this Appointment for over four
years. He retired after 42 years of Service in the Indian Army, as Commandant of the College of
Military Engineering, in the year March 2001.
Lt. General Russell Mordecai is basically a Combat Engineer in the Indian Army. He is a highly
Experienced and Professional Soldier with rich experience in Regimental, Instructional and Staff
Assignments. He is a luminary of The Defence Services Staff College Wellington, The College of
Combat Mhow, (now called The War College) and The National Defence College New Delhi.
His civil qualifications include an Engineer Degree, M.Sc. (Defence Studies), Fellow of the Institute
of Engineers (FIE), and Fellow of the Indian Institute Bridge Engineering (FIIBE). He is also been a
Member of a large number of Professional bodies.
Lt. Gen. Russell Mordecai has been awarded both the Param Vishist Seva Medal (PVSM) and the
Ati Vishist Seva Medal (AVSM) by the President of India, the President of India, the highest and
second highest award, awarded in recognition of a Distinct Performance, and for rendering Service of the most exceptional order.
The Indian Road Congress (IRC) Medal for the best Paper on Maintenance, instituted by the Central
Public Works Department (CPWD).
The State of Maharashtra Cash Award in recognition of the Award of a PVSM, conferred by The
President of India.
---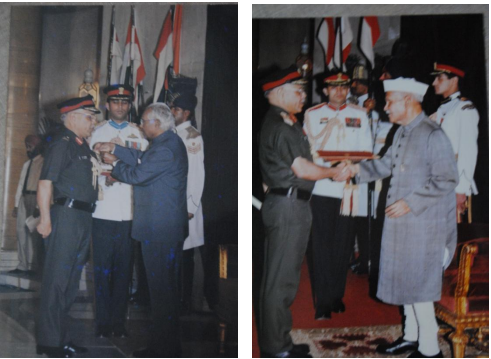 Award Ceremonies of Lt. General Russell Jacob Mordecai PVSM, AVSM
---
Awards & Medals of Lt. General Russell Jacob Mordecai PVSM, AVSM
---
Russell Mordecai and wife Ruth in retirement, at their residence in Pune.
---
Compiled & Edited by Nissim Moses-Historian-Bene Israel Heritage and Genealogy Research