TEKKUMBAGAM SYNAGOGUE (rebuilt in the late 1930s – early 40s)
Jews Street (between Market Road and Broadway)
Ernakulam
Kochi
Kerala, INDIA
---
This synagogue is now closed and locked. The building stands on crowded and narrow Jews Street, between Market Road and Broadway, in the market area of Ernakulam, Kochi. A painted aluminum gate with sign above and heritage plaque mark the entry. For visitors wishing to visit the inside of the synagogue, Mr. Elias (Babu) Joseph at the nearby Kadvaumbagam Synagogue/Cochin Blossoms fish store on Market Road (to the right) can direct them (refer to its page on this site for additional information on that building). Babu no longer has the key (a sensitive matter), but another member of the local Jewish community does. Babu should be able to put visitors in touch with him. For additional information and assistance about this building, review cochinsyn.com and the author of this site, Jay A. Waronker at This email address is being protected from spambots. You need JavaScript enabled to view it..
---
This yellow synagogue, built in the traditional style of other centuries-old Kerala synagogues, dates from the late "1930s" and "1940s". Its name was taken from a medieval-period synagogue believed to have existed in an earlier jewish community in Cranganore, Kerala some distance to the north. In the 16th century, persecuted by the moors and portuguese, the jews shifted from that area and sought safe haven in cochin under the protection of the rajah of cochin. In the process, the original synagogue was abandoned. Subsequently destoryed, this "13th" century structure was said to have been located on the southern edge of town – Tekkumbhagam is the malayalam word for "belonging to the southern side."

This area of cochin once had many jewish homes and businesses, yet today there is no longer a resident community and the synagogue is closed. Access to it needs to be arranged through the owner of the "cochin blossoms" plant and fish business located nearby in the Kadavumbhagam synagogue (turn left out of the synagogue gate, take a right at the next intersection of this road and market road, and the synagogue can soon be seen on the right side).
As with other cochin synagogues, the Tekkumbhagam synagogue is surrounded by a walled court. The building itself features a gabled roof covered in clay tiles, thick walls of a chunam (polished lime) veneer over laterite cut stone blocks, and delicate wooden trim along the roof lines.
Tekkumbhagam's interior contains unique spaces, including the azara (an anteroom that it gets it name from the courtyard of the ancient jewish temple destroyed by the romans in 70 ce), followed by the sanctuary with its central tebah (platform/table for reading the torah scrolls) and painted teak heichal (or ark, a storage cabinet for the torah scrolls). These two ground level spaces are separated by a full-height screen wall. On the second floor, above the azara, is a room where the women once gathered for prayer. Adjacent to it, and overlooking the sanctuary where the men congregated for prayer, is a second tebah. The double tebah is a unique architectural feature to Kerala synagogues: the downstairs one was used for regular weekday services, while the other on the gallery level served during holiday and shabbat prayers.
---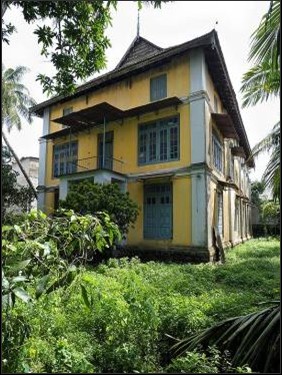 Exterior
---
Interior
---