NEVEH SHALOME SYNAGOGUE (1911)
9, Jackson Lane
(The building is next door to Magen David Synagogue.)
Kolkata (formerly Calcutta)
West Bengal, INDIA
---
This synagogue, albeit still fitted and maintained, is no longer a fully-functioning house of prayer due to the diminished local Jewish population. Nevertheless, some prayer services and holiday celebrations continue to be held here. Unlike the two other extant synagogues in Kolkata, Magen David next door and Beth El a short distance way that are now under the custodianship of the governmental Archeological Survey of India (ASI), Neveh Shalome is still Jewish-owned. ASI staff directly next door at Magen David (its corner can be seen in the photograph below) is regularly on duty to also receive guests at Neveh Shalome during the week at regular hours, so a visit should be straightforward and easy. There is no telephone number for this site, however native Jew (yet not always in Kolkata) Jael Silliman at This email address is being protected from spambots. You need JavaScript enabled to view it. can be contacted for information.
---
Neveh Shalome (Hebrew for Oasis of Peace), organized in the mid-1820s, was the first congregation of Baghdadi Jews who had settled permanently in India during the early years of the nineteenth century. These community members had come mostly from Iraq, but some also originated in Iran and from places within the Ottoman Empire. The earliest Baghdadi Jews had arrived on a seasonally or temporary basis in the late eighteenth century, often based in the western Indian port city of Surat. In time, a permanent enclave was formed in Kolkata with others in Mumbai, Pune, and Yangon, Myanmar. The Baghdadi Jews were seeking religious tolerance and the opportunity to succeed in their work and daily lives. The community as a whole became comparatively well-educated and economically comfortable in their adopted cities in India and Myanmar. Kolkata offered the Baghdadis affiliated with this synagogue the chance to become fully practicing Jews and productive citizens of the broader local community.
Neveh Shalome is notable as the first Baghdadi Jewish community house of prayer in India. Dating to 1830, the prayer hall (referring to a smaller structure compared to a larger synagogue) predates other Baghdadi synagogues/prayer halls in Kolkata by a generation or more. A former residence that was converted into a prayer hall, the repurposed building was located the corner of Biplabi Rash Berhari Road (formerly Canning Street) and Brabourne Road on a site where Magen David Synagogue (1884) stands today. Many of the Baghdadi Jews lived and worked nearby. It was considered the center of Jewish mercantile, home, social, and religious life, and within a quarter of a century another Baghdadi synagogue, Beth El (1856), was erected in this immediate area. Neveh Shalome got its start as a result of a sizeable contribution made by community member, Shalom Obaidah Ha Kohen and named in memory of his father, Shalom Aharon Ha Cohen, who had been one of the first Baghdadi Jew to move to Kolkata in the early years of the nineteenth century.
In 1883, the Neveh Shalome building was demolished, and the large Renaissance-Revival Magen David Synagogue was built on its site. On the 10th of May 1911, construction of a second and larger Neveth Shalome synagogue building began here at 9 Jackson Lane next door to Magen David, and the work was completed the following year. From the late 1800s to turn of the next century, Kolkata's Bagdhadi Jewish community was at its prime. Neveth Shalome along with Magen David, Beth El, Magen Aboth (originally known as Beth Ha Knesset on Blackburne Lane (dating to 1897, now demolished), and Shaare Rason (1933, now closed) together accommodated the sizeable community.
As a result of political and social changes in India that started in the 1950s, India's Baghdadi Jewish population decreased precipitously. With this change came the decline of synagogue life in Kolkata. In recent decades, Neveth Shalom along with Magen David and Beth El synagogues have remained open, although these congregations are very small and regular prayer services are no longer held at these sites. By 2014, the Baghdadi Jewish population of Kolkata was estimated to number only around twenty people. Kolkata's extant synagogue buildings continue to be lovingly watched over by dedicated caretakers who, like the Baghdadi Jews left here, recognize the building as an important religious and civic monument that has been a part of the history and fabric of the Kolkata for many years.
Beginning in late 2013 and continuing into 2014, Neveh Shalome Synagogue was restored by the Kolkata Jewish community and their supporters. Although neighboring Magen David and Beth Israel synagogues, both protected buildings by the Archeological Survey of India (ASI), had been restored by the ASI at the turn of this century, Neveh Shalome had not been included in this scope of work. In need of rejuvenation for years, the rust-colored painted brick and buff painted chunam (polished lime) building was carefully brought back to form. Its symmetrical, tripartite façade is made up of a central mass that is flanked by smaller side bays. At the ground level, the central mass serves as a portico with a wide archway (with the name of the synagogue in English above) that provides access to a foyer that leads into the synagogue's sanctuary. Along the heavy-handed façade and other elevations of the synagogues are wide engaged pilasters, rounded-arched windows with painted louvered shutters, and generous bands of trim. A parapet conceals most of the roof of the synagogue, yet the façade's central massing is covered by a steeply-slope hipped roof that is capped by a simple finial. The pilasters at this area continue to form small pylons that project above the roof line.
The synagogue sanctuary is a rectangular, generous space able to accommodate a membership that, at its height, numbered several dozen families. The room contains a centrally-positioned tebah (bimah/raised platform with a table for reading the Torah). The walls of the sanctuary, finished in chunam and painted white, include some applied trim, yet the overall space is relatively understated. Shuttered windows set in the thick walls, gray and white marble floor tiles, and the wooden tebah with decorative metal balusters are prominent design features. The ceiling of the sanctuary is flat with exposed painted beams and purloins. Filling the sanctuary, in Baghdadi and other Indian synagogue fashion, are several freestanding wooden and mesh benches and chairs as well as various-styled hung lighting fixtures and ceiling fans. Running along the longitudinal and front sides of the sanctuary is a narrow women's gallery. The gallery is lined with arched openings with windows along the wall and a railing made up of painted and shaped balusters.
Neveh Shalome follows the pattern of other Baghdadi synagogues in India in that it contains a prominent architectural feature: a sizeable heckal (ark). The heckal, positioned on the wall nearest to Jerusalem as per tradition, is set within a high half-domed niche with windows. The niche is raised above the main floor level, and it is framed by pilasters and an arched surround decorated with a painted Hebrew verse. From within the sanctuary, the heckal curtain and doors appear to front a conventional, cabinet-like space. Once they are opened, a walk-in apsidal-shaped room is revealed. When they synagogue was in active use, one hundred or more Torah scrolls set within decorated cases were displayed here on shelves. Today, as is the case with its diminished membership, only a handful of the original Torah scrolls remain in place, with most now used in services wherever the community is living.
---
Exterior
---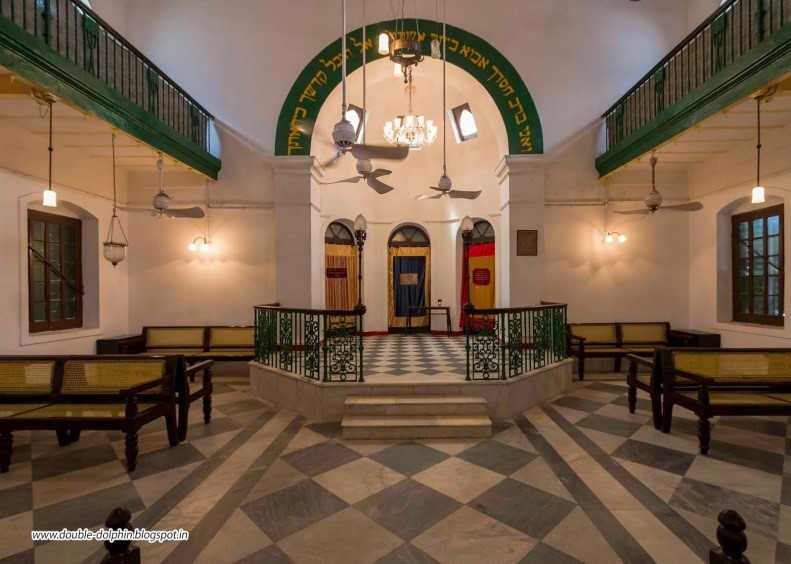 Interior
---