KENESETH ELIYAHOO SYNAGOGUE (1884)
Dr. V. B. Gandhi Marg (formerly Forbes Street)
Fort
Mumbai
Maharashtra, INDIA
---
This grand and large synagogue is still home to an active yet small Baghdadi congregation, and regular Shabbat morning and holiday services continue to be conducted here. The building, now guarded around-the-clock by the Mumbai police, is also routinely open to visitors during many hours of the week (yet not too early in the morning, on Friday afternoons, or Saturdays) under the direction of a building custodian. A contact for the synagogue is Solomon Sopher at This email address is being protected from spambots. You need JavaScript enabled to view it..">This email address is being protected from spambots. You need JavaScript enabled to view it.. He may not answer all emails, but important concerns can be addressed to him.
---
This particularly large and imposing synagogue, completed in 1884, was built and endowed for Mumbai's (then Bombay's) Baghdadi Jewish community by Jacob Elias Sassoon and his brothers in honor and memory of their father, Eliyahoo (Elias) David Sassoon, the son of David Sassoon. David Sassoon was the first permanent Sassoon settler in the city who had emigrated from Baghdad in the 1830s to seek religious freedom as well as business and life opportunities in British India. Once in Mumbai, David Sassoon founded a hugely successful trade and manufacturing enterprise that afforded him, his sons, and their descendants opportunities for Jewish and civic leadership and philanthropy.
Keneseth Eliyahoo (Hebrew for Gathering of Elijah) was designed by English architects David E. Gostling and James Morris, who were based in Mumbai during the latter part of the nineteenth century and the designers of numerous important civic, religious, residential, and institutional buildings of the British colonial period. The synagogue was built in the Fort area of Mumbai on land procured not long after significant changes took place there. For the last century-and-a-quarter, this neighborhood has been a key commercial business center in which some of the city's most important civic and commercial structures are found. Earlier, a castle within a walled settlement called Fort George (in tribute to King George III) stood there. The strategic fort settlement had been periodically refortified by the British, but in 1863 the progressive governor of Bombay, Sir Bartle Frere, dismantled the walls. The fortification was deemed unnecessary since Bombay by that time was stable against French and other potential attacks. Vacant land within the fort walls provided ample space for building needed after a paroxysm of growth in Bombay during the second part of the nineteenth century. In this open territory, Jacob Sassoon purchased a building site from the Land Mortgage Bank of India and arranged for the design and construction of Keneseth Eliyahoo. Because of its location, it has always been referred to as the Fort Synagogue.
The synagogue is located along V. B. Gandhi Street (formerly Forbes Street), a busy secondary thoroughfare containing a mix of mid-rise residential and commercial structures. Keneseth Eliyahoo's exterior is an example of English composite architecture. The building is mostly a neo-classical design, yet with neo-Baroque flourishes – an aesthetic popular during the Edwardian period in Britain and elsewhere throughout British colonies. It has a pronounced semi-rusticated base with quoins, a middle section composed of a grouping of stained glass windows and repetitive bays of fenestration divided by engaged pilasters, and a ceiling with a high pediment and balustrade. The exterior is finished not in masonry but less expensive (and hence popular for that period) chunam (smooth veneer of polished lime shale and sand) over simple brick. For years the synagogue has been painted bright, either a pale one some years back or a bright medium blue with white accents and highlights more recently. This blue is common to many synagogues and Jewish buildings world-over, but it may have been selected simply as a color preference of the managing committee.
Many of the details at the outside of the Keneseth Eliyahoo were faithfully executed according to established stylistic traditions, including the rounded arches with keystones, alignment of the bays, entrance pediments supported by brackets, and paneled pilasters and plinths. Other elements are more stylized, such as the detailing at the knelling windows at the ground floor, the start-and-stop pattern of the rusticated base, and the out-of-the way placement of the building's main entrance. Like an urban palazzo in Europe, Keneseth Eliahoo's ground floor contains secondary spaces as offices, classrooms, event rooms, a mikvah (ritual bath), and storage areas, whereas the primary space, in this case the sanctuary, is a double-height area positioned on the two upper levels.
Compared to the more stylistically-pure exterior, the double-height interior is rather eclectic with its Neo-gothic fretwork and tracery combined with stylized classical components that include rounded arches and slender iron columns. Above the heckal (ark), engaged in the wall nearest Jerusalem as per synagogue convention and containing behind its doors a unusually-large storage space for the Torah scrolls, is the visual focal point of the sanctuary: a large stained glass window (by John Hardman Trading Co., Ltd.) framed by a decorated surround that is crowned by a panel containing a Ten Commandments tablet. An imposing crystal chandelier once hung in the space above the centrally-positioned tebah (bimah/raised platform containing a table for reading the Torah), but it was at some point replaced with a smaller brass fixture. Other fixtures of the same design hang elsewhere in the space. The sanctuary is fitted out with turned wooden columns, a decorative brass railing at the tebah with brass and glass dome lights projecting from the four corners, an intricately-carved teak reading table, the wrap-around women's gallery, and polychromatic Minton encaustic floor tiles from England popular to this era. Long freestanding teak benches with plush cushions and matching chairs fill the space. The building's architecture is Western in style, in keeping with the way of thinking and taste of the Sassoons and most of the Baghdadi Jewish community, who perceived themselves as loyal subjects of the British crown in India.
Within easy walking distance of this stately synagogue are key Mumbai landmarks, attesting to its important place in the city. Nearby are the Chhatrapati Shivaji Maharaj Vastu Sangrahalaya (formerly known as the Prince of Wales Museum), Flora Fountain, Jehangir Art Gallery, Gateway of India, Mumbai Town Hall, Old Mint, Customs House, and Taj Mahal Hotel. Along with these sites, Keneseth Eliyahoo is marked on the city map provided by the Indian Office of Tourism.
At one time this synagogue had hundreds of members and was a busy center of religious and civic life for Mumbai's Baghdadi Jews (along with Magen David Synagogue in the Byculla area). Today it has a very small congregation but remains open and vital. Regular prayer and holiday services are held here, conducted by hazzans (cantors) appointed by the congregation. Tourists and other visitors are invited, and the synagogue is more than ever an integral part of Mumbai's Jewish identity and a testament to the city's tradition of diversity and tolerance.
For Keneseth Eliyahoo's important anniversaries over the years, gala events attended by its members, the broader Mumbai community, Indian political leaders, and dignitaries have been held. For its centennial celebration, the Indian Post and Telegraphs Department issued a commemorative stamp to mark the momentous occasion.
---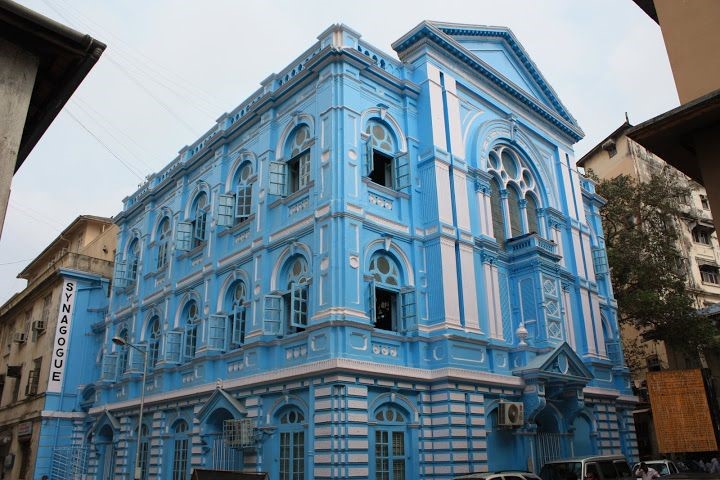 Exterior
---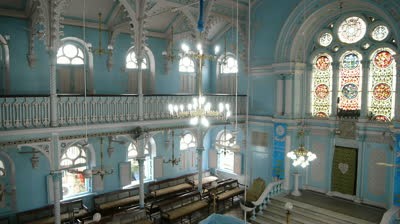 Interior
---