RODEF SHALOM SYNAGOGUE (1925; damaged by fire in 1992 and now closed)
26, Sussex Road
(near Jijamata Udyaan, formerly known as Victoria Gardens)
Byculla
Mumbai
Maharashtra, INDIA
---
This synagogue has been closed for some decades even before the space was burned during local riots in 1992. It was located in the same mid-rise chawl (a local building type) as the still-open offices of the American Joint Distribution Committee (AJDC). Guest can visit this synagogue site, yet today there is little to see.
---
Mumbai's Rodef Shalom (Hebrew for Pursuer of Peace) was established in "1925" as an alternative to more traditional Jewish practice and observance. It was affiliated with the Jewish Religious Union (JRU), which started in the United Kingdom in "1902" as an option for Jews who sought liberal and progressive thinking, spiritual enlightenment, and most importantly, a Jewish prayer service that was more meaningful and contemporary. The JRU incorporated English into the Hebrew service, permitted men and women to sit and pray together in synagogue, and introduced the use of organ music in prayer services. The JRU's inclusive format proved attractive in to Jews in Britain looking for a change from old-style synagogue practices. The movement spread steadily in English in the "1910s" and "20s", and in time reached other countries, including India.
Dr. (Miss) Jerusha Jacob Jhirad, a native of Mumbai, was responsible for bringing the movement to the city in "1924" after she had been introduced to the JRU during her medical studies in London. Drawn to its modern ideology and outreach, Dr. Jhirad set out to organize a congregation by attracting broad-minded Jewish families then living in Mumbai.
For several years, regular Shabbat, High Holiday, and other holiday services were held in a temporary space at a stree mandal (a shared multifunctional community building) due to lack of funds. In the mid-"1950s", Rodef Shalom Congregation took concrete steps in establishing its own space with the assistance of American Rabbi Hugo Gryn and his wife, Jackie. As a result of Rabbi and Mrs. Gryn's motivation, leadership, and enthusiasm, the members of Rodef Shalom committed themselves to becoming a more formal congregation. With Rabbi Gryn's assistance, the congregation received monetary assistance from the Union of American Hebrew Congregations. With this funding, the congregation moved into its own space in "1955", and Rodef Shalom became an active center for religious and communal life. In August "1957", Rabbi and Mrs. Gryn made a trip to Mumbai, and they were hosted by the Rodef Shalom congregants. By that time, Rodef Shalom membership had grown to more than three hundred fifty people supporting regular prayer services, Hebrew and Jewish training courses, a sisterhood, and Bar-Mitzvah and Confirmation classes. Two American rabbis and an Israeli-trained one served the congregation for a dozen years.
In the "1960s" and "70s", when membership at most Mumbai synagogues was drastically declining, the rate of decrease was substantially less at Rodef Shalom. Yet by the "1980s", enough of the community had emigrated from India that the synagogue struggled to remain active. At some point, the congregation moved into a new space at "23", Sussex Road, near Victoria Gardens. Set on the highest floor of this typical early twentieth century Mumbai chawl, or mid-rise building, containing a series of rooms linked along a common outdoor, covered passageway on each floor, the prayer space remained in use here for some years. On the second floor of this building, the Mumbai offices of the American Joint Distribution Committee, a Jewish organization with worldwide social and religious programs, were located.
In late "1992" and early "1993", as a result of the destruction of the fifteenth-century Babri mosque in Ayodhya in India's Uttar Pradesh State, Hindu-Muslim riots spread throughout India. During this violence, this building containing Rodef Shalom was attacked. While not the focus of the outbreak, the prayer hall, which had not been a regularly-functioning house of prayer for some years, was burned. Today the congregation is no longer active. This plaque honors the history of the congregation and its deep commitment to Jewish faith, practice, and education.
---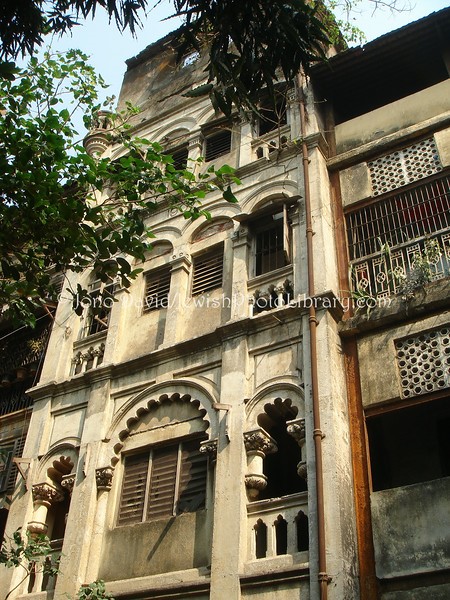 Exterior
---
Interior
---