MAGEN ABOTH SYNAGOGUE (1910, yet much altered in recent years)
Alibag
Raigad District, Konkan Region
Maharashtra, INDIA
---
This synagogue remains open for a very small Bene Israel Jewish congregation still living in Alibag. There is no regular custodian on staff, so often the building is locked. Guests need to arrange in advance via the Mumbai Bene Israel community to visit the building. Contact this website for possible assistance since there is no contact number or email for this building site. To reach this former synagogue and others throughout the sprawling and picturesque Konkan Region, it is best to hire a car and driver from Mumbai for at least two days. A ferry is available from the Gateway of India in Mumbai to Alibag in the Raigad District/Konkan Region, yet from there private transportation would need to be arranged to this and other regional synagogue located quite a distance away. Otherwise visitors can start from Mumbai via a rented car and driver. For an overnight trip, a stay at the comfortable Radisson Hotel on Alibag-Pen Road, Gondhalpada, Varasoli, Alibag, Raigad is suggested.
---
Set in relatively quiet residential area of the Arabian Sea coastal town of Alibag, Magen Aboth (Hebrew for Defender of Brothers) Synagogue still stands as one of the thirteen Bene Israel congregations that were organized in the Raigad District within the Konkan Region of coastal Maharashtra during the mid-to-last nineteenth to early twentieth century. Early on, these small congregations conducted prayer services in private homes or temporary spaces. Eventually the Jews built erected proper synagogues, and over time some of these buildings were enlarged or rebuilt for various reasons during the late nineteenth to first quarter of the twentieth century. Magen Aboth is one of the last synagogues built during this period.
According to building inscriptions in English and Marathi, the synagogues was completed in the Jewish year "5671", or "1910" under the supervision of Mr. Moses Samuel Wakroalkar, the overseer, and Mr. Solomon Aaron Charikar Wadiye, the surveyor. It was constructed according to the architectural design of Mr. Samuel Solomon Mazgamkar, a Bene Israel Jew.
Set on a fairly large parcel of land surrounded by a low stone wall with a prominent gate (dating to the 8th of March "1936" yet changed significantly in recent years), Magen Aboth contains a rough-hewn stone base, chunam (polished lime) walls that are today painted a blaringly bright pink with white accents, a swooping, Baroque-like cornice, spandrels with flowers and leaves, and windows with arched ceilings. The building features a recessed front porch defined by two squat Romanesque Revival-esque full columns and two engaged ones. In recent years, the original design of the synagogue was much compromised, including the incorporation of heart-shaped appliques added to the façade. Steps lead up to the porch, which retains its original encaustic tiled floor and is today fitted with a few benches and wall plaques. To the right of the building is an engaged and covered stair that leads up to the women's gallery. A grassy area directly in front of the synagogues and some coconut trees placed around the building, providing a sense of place and shade. To the north are a concrete court, well, and toilets, and to the west (rear) sign of the synagogue is a shed that perhaps once functioned as a mikveh (ritual bath), and a rear gate.
The interior of Magen Aboth's rectangular sanctuary follows the planning of other Bene Israel synagogues with a centrally-positioned raised tebah (bimah), or an area containing a reader's platform from where the Torah is read), and engaged to the far (west) wall is the heckal (ark). The tebah is partially constructed out locally-grown teak and is mostly original. Its design includes a marble base, turned newel posts and balusters, and a shaped handrail. Placed in the center of the western elevation that is closest to Jerusalem as traditional, the heckal cabinet, with its wooden doors, is set within a shallow niche. The face of this niche was altered in recent years to include two oddly-proportioned engaged columns and an arched lintel above. The doors of the heckal are draped by a cloth called a parochet. The heckal, as per synagogue tradition, is raised off the floor by a few marble steps.

Magen Aboth's sanctuary features include light gray floor pavers and chunam (polished lime) walls today painted pale pink with white trim. Along the walls of the sanctuary are wall sconces, framed Hebrew prayer verses, and painted wood casement windows set in thick wall with arched ceilings. Wooden benches, original to the synagogue, fill the space. The ceiling of the synagogue has also been much altered in recent years. Decorative panels and medallions were added, compromising the original design. Hanging from the ceiling is a collection of glass domed, metal, and crystal lighting fixtures and fans.
Bene Israel tradition tell us that they were traders from the Middle East who conducted business in India as far back as ancient times. Eventually they settled – perhaps more than two millennia ago – in a collection of small towns and villages in the Raigad District. They lived there for centuries as a mostly isolated disaporic Jewish enclave, following various Jewish customs and lifestyle practices among larger Indian communities. Centuries later, beginning in late 1700s but especially by the mid-1800s, many of the Bene Israel relocated to Mumbai as well as Ahmedabad, Pune, and Karachi when these cities were expanding and offering job and lifestyle opportunities. Some Bene Israel Jews chose to stay in the Konkan Region as others moved away. For those that remained here, this synagogue and others continued to remain active religious and communal centers for many more decades. From the time it was constructed to the middle of the twentieth century (when Bene Israel began to leave the Konkan Region in great numbers), the area around Magen Aboth was once a Jewish neighborhood.
According to local legend, the town of Alibag was named after a Bene Israel Jew by the name of Ali, who was a successful businessman who owned plantations of mangoes and coconuts. For this reason, locals once called the place "Alichi Bagh" (Garden of Ali), or simply Alibagh.
Beginning in the mid-twentieth century, as a result of political and social changes in India, the Bene Israel began to emigrate. At that point, the Bene Israel population of Bene Israel dropped from an estimated twenty thousand to a few thousand, and today the number of Jews currently living in the Raigad District is quite small. Of the thirteen synagogue buildings built in the towns and villages in this region from the mid-nineteenth to early twentieth centuries, Beth Ha-Elohim along with ten others physically survive today. Of those, only a few are active houses of prayers, others endure marginally, or have been converted to other functions. These structures, appropriately scaled and decorated for their function, served the community well for many years, and some continue to do so for their congregations today. They are a testament to the region diversity and to India's tradition of tolerance.
---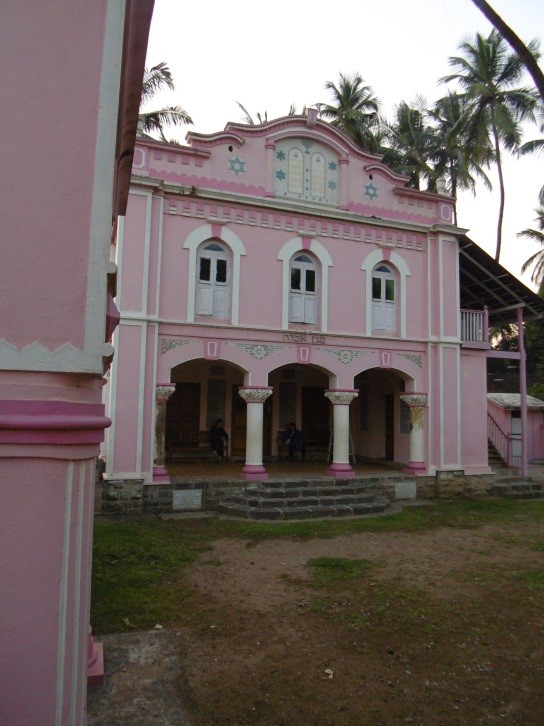 Exterior
---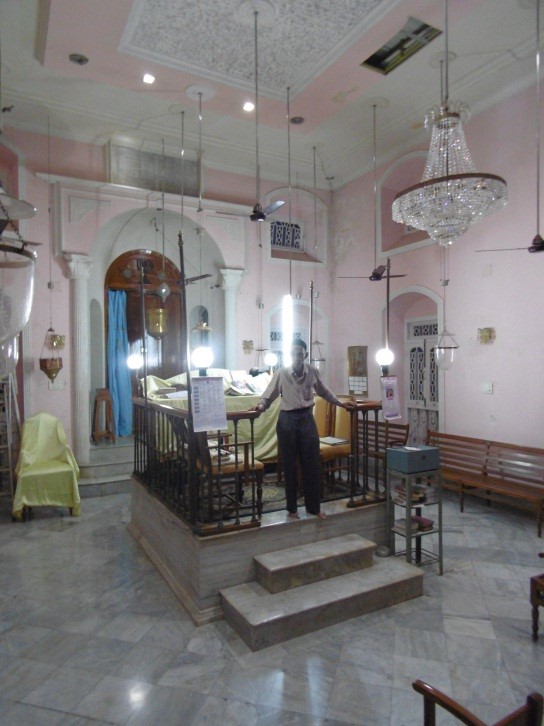 Interior
---