BETH HAELOHIM SYNAGOGUE (1849)
(The synagogue located on the town's central road.)
Raigad District/Konkan Region
Pen
Maharashtra, INDIA
---
This synagogue is today operational, although marginally so. Since there is no one there regularly e to receive visitors and guarantee immediate access, a visit to the synagogue should be arranged in advance via the Mumbai Bene Israel community. Contact this website for possible assistance. To reach this former synagogue and the nine others throughout the sprawling and picturesque Konkan Region, it is best to hire a car and driver from Mumbai for two full days. There is a convenient ferry that takes passengers from Mumbai's Gate of India to Alibag in the Konkan Region. Here travelers would have to arrange for private transportation to this and other regional synagogues, which will be challenging since finding someone near the ferry jetty who knows where they are all located is difficult. The alternative is to begin in Mumbai via informed car and driver, and travel all by roads. This is the longer option but will insure that all the synagogues can be reached. For the overnight stay, the comfortable Radisson Hotel on Alibag-Pen Road, Gondhalpada, Varasoli, Alibag, Raigad is suggested.
---
Beth Ha-Elohim (Hebrew for House of God) Synagogue, is located in the town of Pen a day's trip from Mumbai to the north. Pen gained prominence centuries ago due to its location along trade routes to the Deccan and its central position in the Raigad District along the bank of the Bhogavati Creek. Traditionally, Pen was populated by Brahmins and a sizeable merchant community as it was a center of culture, education, and trade. For centuries, Bene Jews coexisted with these other groups, and they lived peaceful and productive lives that included the right to practice their religion. The Jews pursued many trades, but they were most known as oil pressers. Since the Bene Israel did not practice this trade on Saturdays, which is the Jewish Sabbath, they were known among the greater population as Saturday Oil Pressers.
Initially Beth Ha-Elohim congregation held prayer services in private homes of its membership, yet in the early 1860s a parcel of land in central Pen was purchased by one of its members, Sutkiel Benjamin Kandlekar. With the land procured, another community member, Hannibai Divekar, made a significant contribution in memory of her husband Haeem David Divekar for the construction of the synagogue. That building was consecrated in 1863. Three decades yet, to accommodate a larger congregation, a new synagogue was realized with donations from the members of Beth Ha-Elohim. The second synagogue, the one surviving today, was dedicated on the 9th of March 1893.
Beth Ha-Elohim is located along a busy and narrow road in the heart of Pen, and it is surrounded by low-to-midrise commercial and residential buildings. Street vendors are also positioned here, creating a dense and congested area. A stone wall not original the synagogue fronts the synagogue property with a painted metal gate (decorated with Stars of David) proving access to a small open space in front of the synagogue building. Today that court is covered by a sloped corrugated roof. There is a small open space to one side and rear of the synagogue where a storage room and toilet is located.
The façade of Beth Ha-Elohim, fancier than most other Bene Israel synagogues in this region, is an eclectic composition constructed of simple brick veneered in chunam (polished lime) that has been painted various color schemes over the years. The façade includes stylized European elements: paired groupings of pilasters set on plinths, windows encased in heavy trim, and a Gothic-inspired roof parapet with quatrefoil pattern that is crowned by curvilinear Baroque-revival flourish. Alongside these European-influenced features are self-styled Indian flourishes, such as guldastra stem-like elements flanking the façade's central window. The name of the synagogue in Hebrew is positioned here along with a Hebrew verse. Here the paint scheme is pale yellow, pink, and rose. The synagogue's roof is hipped and is covered by flat ceramic tiles. The building features deep overhangs, in response to the monsoon climate.
The rusticated base of the façade of Beth Ha-Elohim, which features three arched openings flanked by pilasters and is painted peach and orange, serves as a porch and anteroom where a stair up to the women's gallery and doors opening into the sanctuary are located. Hung in the porch is donation plaques, and hanging from the porch's flat roof is a ceiling fan.
In marked contrast to the crowded, noisy, and bright conditions just outside the synagogue, the synagogue's sanctuary is calm, orderly, and darker. The rectangular room, little changed from the original design, follows the spatial planning of other Bene Israel synagogues with its centrally-positioned raised tebah (bimah, or area containing a reader's platform from where the Torah is read) and to the far wall the heckal (ark). The tebah is constructed out of wood that has been painted. Its design includes raised panels at its base, brass balusters, and a shaped handrail. Placed in the center of the western elevation that is closest to Jerusalem as per synagogue convention, the heckal is a painted wooden cabinet that is draped by a cloth called the parachot. The heckal, as per synagogue tradition, is raised off the floor by a few gray marble steps and set with a half-domed niche. The face of the heckal wall is decorated by an arched surround constructed of wood and painted (rose and pink), and its features pilasters at the ends and a wavy-patterned crowning feature with stone dedication panel above. This area also contains rosettes and floral decoration. There is a string of lights along its perimeter of the heckal niche, a common feature to Indian synagogues. The doors of the heckal are paneled and painted, and on the floor in front of the heckal is paved in light and dark grey marble tiles that are covered in part by an oriental carpet.

Beth Ha-Elohim sanctuary contains a ceramic tile floor (not original), pale-yellow chunam walls, fluorescent-tube wall sconces, framed prayer verses in Hebrew displayed around the room, painted wood casement windows and transoms with shutters, clerestories, a decorative cornice, and decorative panels between the window units. Hanging from the flat painted ceiling with its applied decorative wooden strips is a variety of ceiling fans, glass lanterns, and lighting fixtures. Other architectural and liturgical design features include the freestanding wooden benches along the perimeter of the sanctuary and the matching pair of draped chairs adjacent to the heckal. One is for the Elijah, and the other used for the circumcision ceremony.
A women's gallery is cantilevered over the entry side of the sanctuary, and part of it also is over the entry porch. Painted metal balusters with a painted wood cap and two square posts from gallery to ceiling detail this area. Beneath the gallery are painted white wooden joists. Elsewhere in the sanctuary is detail, such as diamond-shaped panels, an entablature, and various trim pieces that are, painted a vibrant color scheme: pink, pale yellow, orange, mauve, and rose.
Bene Israel tradition tell us that they were traders from the Middle East who conducted business in India as far back as ancient times. Eventually they settled – perhaps more than two millennia ago – in a collection of small towns and villages in the Raigad District. They lived there for centuries as a mostly isolated disaporic Jewish enclave, following various Jewish customs and lifestyle practices among larger Indian communities. Centuries later, beginning in the late seventeen hundreds but especially by the mid-1800s, many of the Bene Israel relocated to Mumbai as well as Ahmedabad, Pune, and Karachi when these cities were expanding and offering job and lifestyle opportunities. Some Bene Israel Jews chose to stay in the Konkan Region as others moved away. For those that remained here, this synagogue and others continued to remain active religious and communal centers for many more decades.
Beginning in the mid-twentieth century, as a result of political and social changes in India, the Bene Israel began to emigrate. At that point, the Bene Israel population of Bene Israel dropped from an estimated twenty thousand to a few thousand, and today the number of Jews currently living in the Raigad District is quite small. Of the thirteen synagogue buildings built in the towns and villages in this region from the mid-nineteenth to early twentieth centuries, Beth Ha-Elohim along with ten others physically survive today. Of those, only a few are active houses of prayers, others endure marginally, or have been converted to other functions. These structures, appropriately scaled and decorated for their function, served the community well for many years, and some continue to do so for their congregations today. They are a testament to the region diversity and to India's tradition of tolerance.
---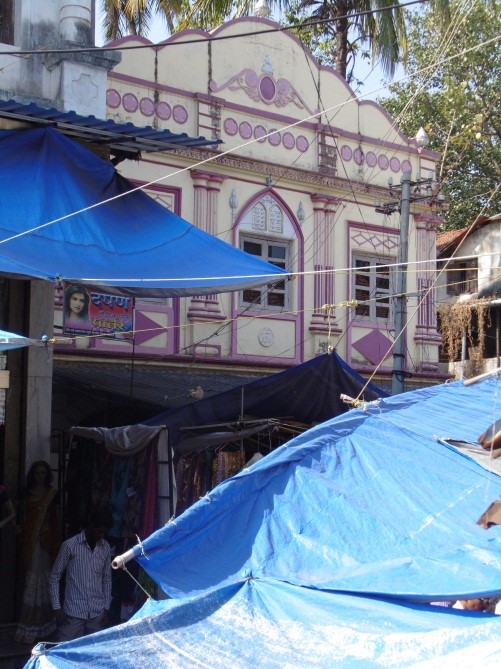 Exterior
---
Interior
---